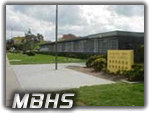 This is how Mission Bay High School looks today - pretty much the same. No telling how much it has changed since it was first opened in 1953 but it still looks the same old MBHS of 1982 to me.






Find old MBHS friends and keep current on MBHS alumni news and events. Please make sure to sign the MBHS "Guestbook" and visit the "Alumni Page" to see who's there, while you're at it, add your's or someone else's contact info so we can keep the page updated.





30-Year Reunion: Sat, July 28 @ 6PM, Liberty Station. $55 (pre-order), $65 at the door.